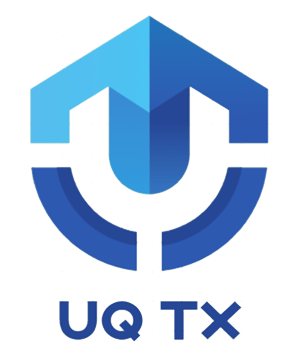 UniqueText by CovenantLinks
Plagiarism checker is a common tool. Yet Online Plagiarism Checker which developed specially for IMers, Blogger, and Content Writing Service is only UniqueText. UniqueText is a solution for your plagiarism problem. Its main purpose is to help you create plagiarism-free content for your Blog or Website.
Who is behind Uniquetext? I am George, works as internet marketer since 2009. At that time, ranking a website for potential keyword is a piece of cake. Google only looked for authority backlink without analyzing the content further. Therefore services like My Article Network, LinkVine were at their peak those days. They tried to mix sentences of 2-3 articles into an article that would be submitted through their blog network. Regardless of how awful the content was, those websites still gained a high ranking on Google.
However, it's way over today SEO. Nowadays, Google analyzes content much better. Though backlinks still hold a big portion of ranking factor, content is a tremendous factor in Google algorithm. You can not win your SEO battle without unique and quality content. Therefore, everytime I ask Content Writer to write me a content, I need to check it for originality. As you know, there are a lot of online plagiarism checkers out there, free and paid. I have tried several popular ones like duplichecker, small seo tools, quetext, and of course Copyscape, but I cannot find a tool that suits my need as Internet Marketer, except Copyscape.
Yes, I understand that most of you have tried Copyscape, whether the free one or Premium Account. This is a good tool, I admit that. However, I cannot use Copyscape forever. Not only price factor as my consideration, I also need a tool that accommodate my need to rewrite parts of duplicate text directly. Therefore, I created UniqueText not just as an accurate duplicate content checker, but also an easy tool to work with. I can guarantee the accuracy of UniqueText against many popular plagiarism checkers out there. But what I value the most is the way UniqueText make it easy for us to find and rewrite parts of duplicate content directly.
The screenshot of the UNIQUETEXT duplicate content checker
(Web Version):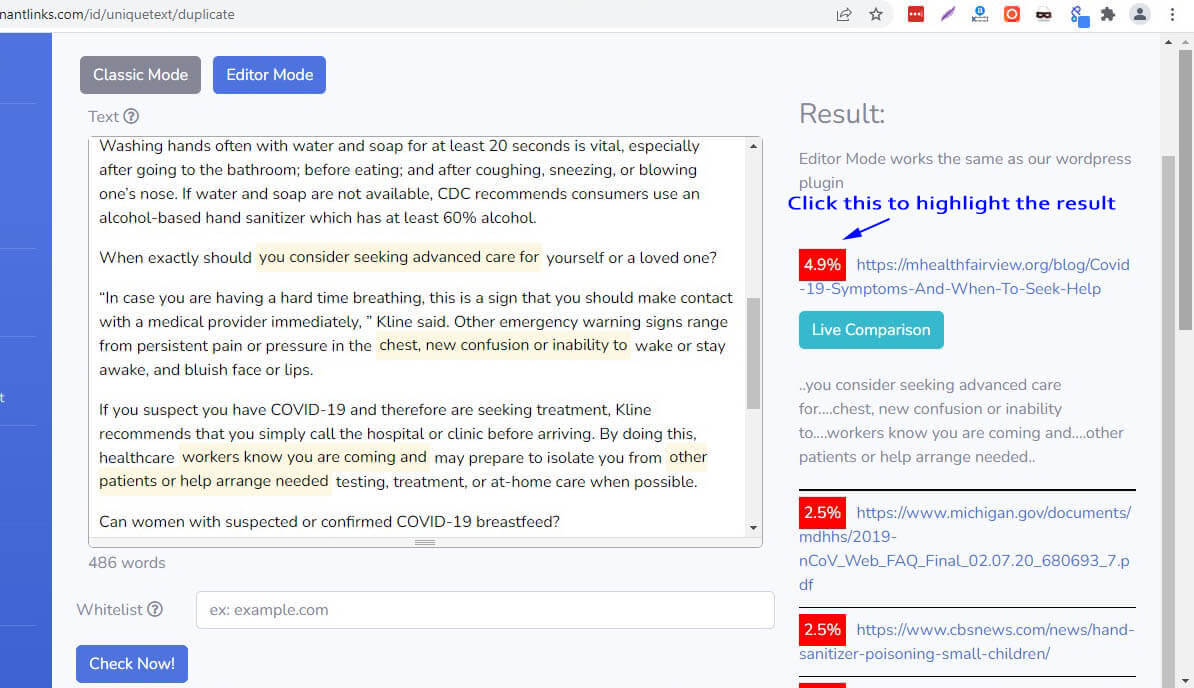 UniqueText TOP Features
Why you should use UniqueText
EASTER DISCOUNT VOUCHER
Celebrate Easter 2022 with UNIQUETEXT COUPON PROMO (Limited)
PRICING
Gain Advantage of Having UniqueText Plagiarism Checker on Your Side
Frequently Asked Questions (FAQ)
You Ask, We Answer
It is a tool that helps Internet Marketers, Bloggers, Website Owner to check their text for possible duplicates. The accuracy of UniqueText is no doubt exceeds most other popular plagiarism checkers. The other plus factor of UniqueText is the ability to highlight and rewrite parts of duplicate in your content. If you are Wordpress blogger, using UniqueText plagiarism checker wordpress plugin is recommended. The plugin will check your article before publishing and can bulk check your past published blog posts.
Register an account and verify your email by clicking link on the email we sent you after registration. Then you can log in and directly check your content inside dashboard panel. However, if you write blog post using Wordpress, installing our wordpress plugin is really helpful. You can check the article before you publish your content.

Using dashboard panel, you just need to copy and paste your article to the text box provided. You can whitelist your own site so that it would be showing in the result.

Hit check button, our server will check your content and compare to billions online contents out there. Wait for the process to be done, then it will show you percentage rate of your content that is considered as duplicate content. It will also show you links of your duplicates, including their percentage rate.

Click each percentage rate to highlight parts of your content that duplicate or similar to other content we found online. What you need to do now is rewrite those parts to make it unique. Once you cannot find any single highlight, it means your article is already unique.

You can also use UniqueText wordpress plugin on your wordpress blog. The process is quite the same, but first you have to enter your email and Token API inside the plugin setting. Token API is provided inside dashboard panel, copy and paste this to UniqueText settings inside wordpress dashboard panel.
You can use UniqueText to check your content written in almost all languages. However, UniqueText cannot check content written in ideograms like Japanese Kanji, Chinese Hanzi, Korean Hanja. If you are in doubt, you may register for a free account first, to test UniqueText on your written content. We work hard to make UniqueText a one-stop solution for your plagiarism problems.
We never store checked text inside our database. Your text is always yours. However, if you activate UniqueText team account, we will store your text just for reporting purpose.
We hate spam. We promise your privacy is kept safe and would not be share to anyone by any means.

Our tool is using search engine to find duplicate contents of your submitted texts. Therefore, we cannot guarantee that there are no more duplicates except what are listed in the result. Sometimes when the copy is quite new and not indexed in the search engine yet, it also is not listed in our result.
We serve international clients all over the world. However, since we are located in Indonesia, we use famous Payment Gateway from Indonesia, Midtrans. For client overseas, we accept credit card payment only. We will never store your credit card information in our site. All payments will be handled securely by Midtrans.
Contact Us
Green Garden Residence B-27, Juanda, Sidoarjo, Jawa Timur, Indonesia